Princess Challenge- Favourite Prince
Again, this one is easy.

Wouldn't YOU want a piece of THAT???? Yummers…….
But now with Flynn Rider on the scene……he's got some competition. But Aladdin will always have my heart.
30 Day- Your idea of the perfect first date
Either….a day at a Museum, preferably the ROM, or a day at the zoo. Yups, that's a pretty perfect date right there.
Oh, I need to elaborate more? Um……My date doesn't show up late. I mean, I'm usually the one to arrive early, but I don't want them to arrive later than our meet-up time. Lots of laughing with very little awkward moments. Hand holding is also a nice thing. But only if they're feeling it too. Don't want to jump the gun on that.
Beautiful sunny weather with blue skies. Doesn't have to be warm or hot, but as long as it's not cloudy or rainy or snowing or sleet-y. Just…..low winds, and bright blue skies with a few clouds.
Maybe a soft serve ice cream thrown in there for good measure. Can never go wrong with that. Especially if my date offers to pay for it! *swoon*
Anime- Your anime crush
Of course, without a doubt, it's my princess.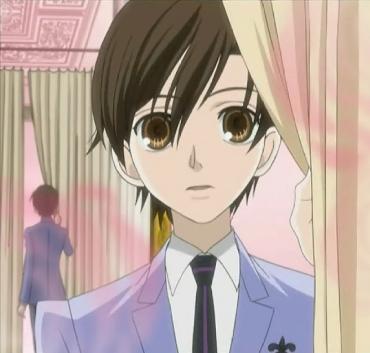 Yups, I LOVE Fujioka Haruhi from Ouran. I've got like…5 posters with her up in my room. I want to marry her. I know I have strong competition with Tamaki though……Oh to hell with him. (I still love you Miyano Mamoru!)
And my boy crush that takes my breath away.
Hiwatari Satoshi from DN Angel. *swoooons*